Aamir Khan's 'Lagaan' turns 20
11 min read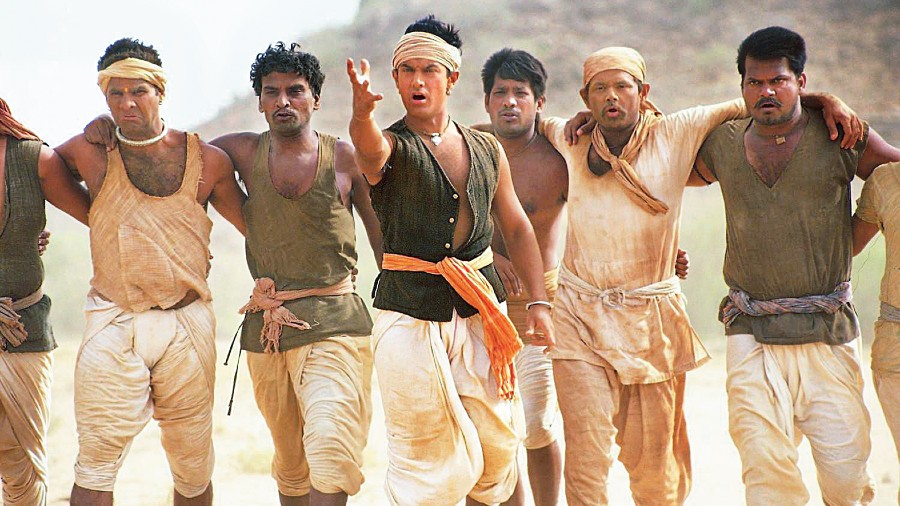 Retracing its steps to the making and magic of the Aamir Khan film that's proved to be a watershed in the history of Indian cinema
---
---
In the summer of 2001, when baby steps towards an all-new Bollywood — story to style — were just being taken, there came a film that not only changed the fabric of Hindi films, but also put Indian cinema on the global map and a few months later, on the red carpet of the Academy Awards.
That film was Lagaan: Once Upon a Time in India. Released exactly two decades ago to the day, Lagaan — powered by the combined genius of actor Aamir Khan, who turned producer for this film, and director Ashutosh Gowariker — is a watershed film in the history of Indian cinema, with the journey of Bollywood often being demarcated as pre-Lagaan and post-Lagaan. For, it was not only a film that showed how successfully an unconventional story told well could smash the box office, it also illustrated how diverse genres — period, musical, sport, drama — could be seamlessly brought together.
It was a rare film that united the audience, touching upon everything from inclusivity to national pride, the triumph of the underdog to the richness of Indian history. In an era where the Rs 100-crore club was still unheard of (for the record, Aamir himself kickstarted the same with Ghajini in 2008), Lagaan may have only earned Rs 65-crore to be declared a hit, but its impact lies far beyond its box-office earnings. Today, 20 years later, it's a film that remains a masterclass in storytelling and performance. And a film of pride for India.
The beginning
Set in 1893, at the height of British dominance over India, a group of illiterate villagers in Champaner playing a game of cricket for pride — and life —  and winning against the British, was essentially a one-line idea, but one brimming with potential.
Ashutosh Gowariker — who had directed Aamir a few years before Lagaan in the unwatchable Baazi (remember Aamir in a gown dancing to a version of Come September?) first approached Shah Rukh Khan for Lagaan, but the actor rejected it. So did Abhishek Bachchan (you read that right). He then went to Aamir, who did the same. "When I heard Lagaan, within five minutes of its narration, I rejected it. I was like, 'It is a story of people who are not able to pay 'lagaan' (taxes) as there are no rains and they play cricket with British people! I was like, What a bizarre thought is this!" Aamir — who was going through a rough patch himself, with non-starters like Mann and Mela — recalled later.
Ashutosh, however, was adamant on having Aamir and he approached the actor after a few months post tweaking the story. Aamir reportedly liked the story, but was apprehensive about signing on. He asked Ashutosh to narrate the story to his parents. Legend has it that Aamir's parents started crying after hearing the narration of the script, prompting the actor to sign on. 
How Lagaan first got bankrolled and then made is a story in itself. Even with Aamir on board, no producer was willing to back the film. Those who did, wanted changes in the script and scale of the film, which Ashutosh wasn't keen on implementing. He then requested Aamir to step in, marking the actor's debut as producer.
Casting for Lagaan was also an interesting process. Names like Sonali Bendre and Ameesha Patel were thrown around for the central role of Gauri, with Preity Zinta and Rani Mukerji being unable to commit dates for the film. Finally, Ashutosh opted for newcomer Gracy Singh, who had just delivered a hit TV show with Amaanat on Zee TV. He said Gracy reminded him of yesteryear actress Vyjayanthimala.
Lagaan cast 15 foreign actors, primary among whom was Paul Blackthorne who played Captain Andrew Russell, the man who arrogantly challenges Bhuvan and Co. to the film's all-important cricket match. Blackthorne spent six months learning Hindi for his role, and so did Rachel Shelley, who played Elizabeth Russell. Rachel, in fact, went the whole hog, memorising everyone's lines in Hindi so that she could understand the scenes better. For the record, Hollywood heartthrob Gerard Butler had also auditioned for the role of Captain Russell.
The middle
Four years after Lagaan released and made an impact globally, an equally engaging documentary on its making made its way to theatres. Its title Chale Chalo: The Lunacy of Film Making perfectly captured the sheer passion and madness that went into making this magnum opus.
Lagaan was shot in one single schedule over close to six months. The decision to shoot in Bhuj in Gujarat came with its fair share of challenges. A large village had to be built on the vast expanse, and that task was carried out by the local inhabitants four months before the arrival of the crew. Bhuj was destroyed in an earthquake six months after the movie was shot, with Aamir donating a large part of earnings from Lagaan for relief efforts to help the village.
Lagaan was the first Bollywood production in 30 years to use synchronised sound. An Arri535 camera from Germany was used to facilitate sync-sound recording. Most Indian films are dubbed entirely in the studio in the process known as ADR.
Aamir slipped into the role of Bhuvan, making sure he not only perfected the art of wearing the turban and dhoti, but also spent months learning the language used in the film. The dialogues, a mixture of Awadhi, Bhojpuri and Braj Bhasha, were penned by Hindi writer K.P. Saxena.
The cricket match, which forms the film's pivot over its last hour, comes with its own fascinating stories. By far the most difficult segment to shoot, the match was scheduled to be shot in three weeks but it dragged on for over eight weeks, with most days in Bhuj clocking around 48°C.
The match was initially planned to contain two innings as in conventional test matches. The decision to keep it at a single inning was made just one day before its shooting. There were two references for the cricket match in the film. For authenticity, Aamir and Ashutosh referred to Mihir Bose's The History of Indian Cricket and… Sachin Tendulkar. In fact, Aamir has gone on record to state that at a screening of the film after release, Sachin actually "looked tense" as the last few balls were being bowled by the Britishers to Bhuvan and his team!
Lagaan had a very clear brief from Aamir: not to reveal the film's trump card — the cricket match — in the promo. "He wanted to keep that bit a secret and unleash it on the viewer in the theatre. While making it, we were tempted to put in a blink-and-you-miss shot of Bhuvan holding a cricket bat, but decided against it. Aamir's marketing ploy worked," Ravi Padda, who teams up with brother Binny to be one half of Bollywood's foremost makers of pre-release promotional material, had told t2 earlier.
The film's music, of course, remains on everyone's playlists today. A.R. Rahman — who Aamir was initially reluctant to sign on because of the former's regular inability to stick to deadlines — delivered a gem of a soundtrack, Mitwa to Ghanan ghanan, Radha kaise na jale to Ore chhori, O paalanhaare to Chale chalo.
The end
The first cut of Lagaan was seven-and-a-half hours long, with the final film clocking 224 minutes. Lagaan had a relatively slow start, but word-of-mouth, especially the buzz around the cricket match, saw the crowds swelling. The overwhelmingly positive reviews, and not just in India, helped immensely. The film holds a 95 per cent approval rating on review aggregator website Rotten Tomatoes.
The Guardian described Lagaan as "a lavish epic, a gorgeous love story, and a rollicking adventure yarn. Larger than life and outrageously enjoyable, it's got a dash of Spaghetti Western, a hint of Kurosawa, with a bracing shot of Kipling". "An affectionate homage to a popular genre that raises it to the level of an art film with fully drawn characters, a serious underlying theme, and a sophisticated style and point of view," wrote The Los Angeles Times. Rogert Ebert, the foremost name in film criticism worldwide, was also effusive in his praise. "Lagaan is an enormously entertaining movie, like nothing we've ever seen before, and yet completely familiar… At the same time, it's a memory of the films we all grew up on, with clearly-defined villains and heroes, a love-triangle, and even a comic character who saves the day. Lagaan is a well-crafted, hugely entertaining epic that has the spice of a foreign culture."
Lagaan became the first Indian film to premiere in China, setting the ball rolling for Aamir's humongous popularity in that country, which continues till today. In 2010, Lagaan was ranked No. 55 in Empire magazine's "The 100 Best Films of World Cinema". The following year, the film was listed in Time magazine's special "The All-TIME 25 Best Sports Movies". Channel 4 has placed it at number 14 in "50 Films to See Before you Die", with Lagaan being the only Indian film to be listed.
Lagaan was India's official entry to the Academy Awards and made it to the Top 5 shortlist in the 'Best Foreign Language Film' category. Aamir Khan and Ashutosh Gowariker walked the Oscars red carpet in a landmark moment for Indian cinema, but Lagaan lost out to the Bosnian film No Man's Land. But by then, the film had already won a billion hearts. And continues to do so.
Their Lagaan memories
Swastika Mukherjee
My first memory of Lagaan is very clear in my mind. I was driving down Southern Avenue and was crossing Menoka and I suddenly saw two rows of a huge number of yellow taxis parked… from far, it looked like a canopy of cabs. When I reached the hall, I looked out of my window and asked a taxi driver why there were so many cabs parked there. He replied saying that a film called Lagaan had released, and it had a cricket match. And that day, the city's taxi association had brought all these drivers there to watch the film. He had the same kind of exuberance that one would expect out of someone hurrying in to watch a match at Eden Gardens. I had never seen something like this. I stopped and took notice of the poster… Aamir Khan in a dhoti and turban, and I wondered, 'Why is this taxi driver talking about a cricket match?!' There was nothing in the poster.
After a few days, I went to watch the film with my mother at Menoka. Even after being a part of the industry and knowing the technicalities that go into making a film, I was so consumed by what was playing out in front of me. The audience really surrendered to the film. When the ball crossed the boundary at the end, the whole balcony — including us — stood up and started screaming and clapping. I had almost chewed off my fingernails. It was like a World Cup final!
I have watched Lagaan many times after that. I know what will happen at the end, but every time during the climax, I get the same kind of palpitations! It's a film that never gets old. If I am given a choice between watching a new film and Lagaan, I will always go for Lagaan.
Tota Roy Choudhury
I remember watching Lagaan at a South Calcutta single-screen theatre. I think I had gone in the first weekend itself. The film looked different from its posters, and after all, it was an Aamir Khan film. But we didn't know much about the film, and more or less, I went in with a blank slate.
As the film progressed, I knew I was witnessing something which was going to create history. Not just me, I could feel everybody in the theatre having that feeling. Everyone was deeply engrossed in the film. At the end when the cricket match played out, the whole theatre felt like a stadium! There were cheers and shouts and a kind of nationalistic fervour, something like one would witness at a cricket match at Eden Gardens. Lagaan is one of those very rare sports films which was up to international standards. It's beautifully shot, very well acted and, of course, has Rahman's music.
At that time, the general trend was to focus on the hero and heroine. In this film, there are some very strong peripheral characters… Elizabeth, Andrew, Lakha, Kachra, Guran…. It was a true ensemble film at a time when ensemble films were rare.
Later on, I read the book called The Spirit of Lagaan and realised that it was such a difficult shoot. It was actually a labour of love, rather than making a film for profit. Every film student, every person of our fraternity should read that book.
After reading the book, I watched the film again on DVD. And I realised that scenes that we had taken for granted were so painstakingly shot. That was Aamir Khan's foray into production because others were not believing in Mr (Ashutosh) Gowariker's vision. He put his money where his mouth was.
Abir Chatterjee
What I found really remarkable about Lagaan was that, despite the presence of a huge star like Aamir Khan, they managed to keep the real story of the film hidden till release. I don't know whether that will be possible today, in the age of social media. They had a huge crew, they shot in real locations, but none of us really knew about the cricket match, which forms the core of the film. That's very intriguing.
I really wanted to watch Lagaan when it released because Aamir Khan was perhaps the only actor then who was doing different kinds of films, even within the mainstream format. His name carries that weight even today. He was also one of the first actors to turn producer. I was interested in the fact that it was a period film and that they had brought in a lot of foreign actors. The songs also became very popular, and it wasn't a typical Rahman score. Ghanan ghanan would play everywhere. I always knew that Aamir was a good dancer, but we discovered a terrific dancer in him with this film, especially in Radha kaise na jale.
When it released, like in the case of Sholay, the audience took some time to react to and warm to Lagaan. Word-of-mouth publicity was so strong, especially when it came to the cricket match, that viewers started trooping in. All of us were actually a little surprised… 'Period film-ey cricket match?! Sheta ki kore hoy?' When I went to watch the film, I saw how that cricket match made the audience go insane. People were actually keeping score… how many balls were remaining, what's the asking rate! Cinema and cricket — two passions of almost every Indian — were merged so intelligently in Lagaan. People expected the film to be big, but no one expected so many threads to come together so successfully in one film. There was some brilliant acting and a remarkable freshness in the film.
Later, I read a lot on the making of the film and also watched a documentary on it, and how the film was made and released has now almost become a part of folklore. When it went to the Oscars, we were very excited. It didn't win, of course, but we didn't feel any kind of disappointment because we were so proud of the film.