Sonoman can help conserve monarch butterflies with milkweed
4 min read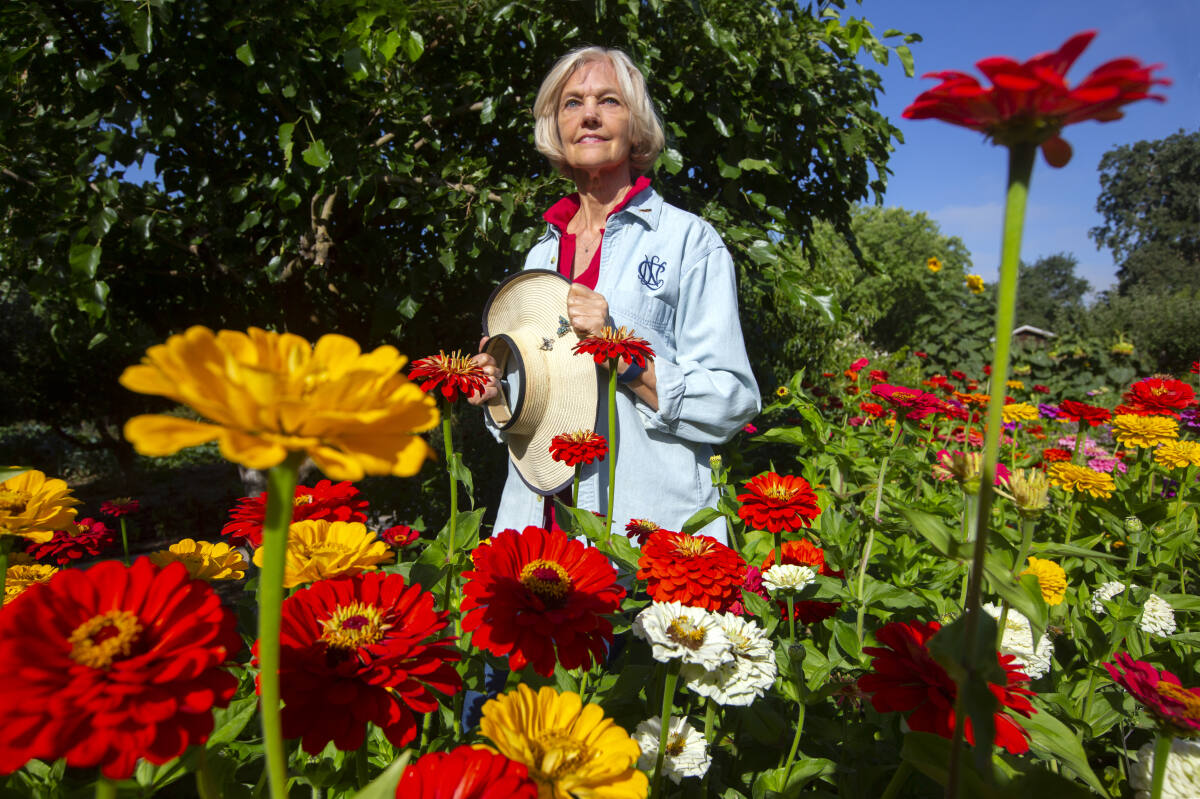 Confident, bees get a good deal of press about colony collapse condition. And the plight of plankton is all the chat amid climatologists.
There is even a area team – the so-termed Newt Brigade – that allows salamanders cross Sonoma County streets.
And those are all worthy leads to. But who's on the lookout out for 1 of the most legendary pollinators designed vulnerable by habitat reduction and shifting weather – the monarch butterfly?
Cindy Lindh was an English trainer in Texas for virtually 30 decades. When she and her airline-pilot spouse retired to Sonoma in 2009, she seemed all over for volunteer prospects the place she could do the most good.
"(I) needed to know what to do to assist make the planet a better place," she mentioned.
Lindh joined the Earth Treatment Advocates at the Initial Congregational Church of Sonoma, a committee tasked with getting action to limit the church's environmental footprint. Just after attending a presentation by Suzanne Clarke, founder of the Sonoma County Butterfly Alliance, Lindh understood her retired life's upcoming worthy induce: the western monarch butterfly.
The monarch, or Danaus plexippus, is amongst the species commonly identified as milkweed butterflies, which lay their eggs on milkweed plants, with the larvae finally using the crops as a main source of food stuff. But a number of components – from growing pesticide use and decline of milkweed to overall destruction of monarch habitat – have contributed to a rapid depletion of the species. Considering that 1997, western monarch populations have dropped by more than 50%, according to the Xerces Modern society, a nonprofit devoted to the conservation of invertebrates. (The quantities might be even more alarming: a modern count around Thanksgiving week documented less than 2,000 monarchs west of the Rocky Mountains – a virtually 99.9% decrease considering that the 1980s, in accordance to Xerces.org.)
"There are old-timers in this Valley who say they try to remember observing monarchs fly via in the tens of millions," said Lindh, 71.
Now she's just hoping local people can see any at all. Which is in which the Global Monarch Monitoring Blitz arrives in.
For the upcoming 10 days, from July 23 to Aug. 1, Lindh is urging Sonomans to be part of in an work to come across milkweed vegetation and survey them for symptoms of any monarch eggs, caterpillars, chrysalises or butterflies. If individuals in the monarch count see something, they can report their results to the Western Monarch and Milkweed Mapper internet site at monarchmilkweedmapper.org.
The mapping delivers monarch scientists with beneficial info about the species' summertime breeding habitats and inhabitants quantities – making it possible for them to better understand migratory traits and how best to aim their conservation attempts.
"If persons can get with this citizen-science challenge, it will feed info to the scientists who are looking into where the butterflies are," reported Lindh. "So it will permit us know where to set the milkweed."
And therein lies Lindh's holy grail: to unfold the word that the very best way to assistance the western monarch is to plant its food stuff supply, milkweed.
"People appreciate their gardens and they can all make a distinction by just putting some pollinator-pleasant vegetation in," Lindh mentioned.
Lindh steers regional gardeners to plant either narrowleaf milkweed or showy milkweed, the two species indigenous to California. But "don't be fooled by the wrong milkweed," she stresses. Tropical milkweed – an ever more common non-indigenous species found in plant shops – is specifically conducive to hosting a milkweed parasite that harms monarchs. Scientists suspect the proliferation of tropical milkweed is yet a further aspect in the decline of the western monarch.
Lindh led the energy to make a pollinator backyard on the grounds of the First Congregational Church on West Spain Road. And she's an enthusiastic supporter of the pollinator gardens the Sonoma Ecology Middle tends as component of its Garden Park on Seventh Avenue East, and urges plant buyers to pay a visit to the center's native plant nursery.
Rebecca Chekouras is the caretaker for the butterfly and bee yard at the Garden Park and states her aim is to assure the gardens are profitable in "promoting just the items that Cindy is promoting: the generation of a foods provide, h2o source and habitat" for pollinators.
Chekouras stresses the No. 1 difficulty for monarchs is the decline of habitat.
"They can not fly pretty far with no needing relaxation and meals," mentioned Chekouras.
And, importantly, milkweed is in which they lay their eggs. "Not only are you chopping off foodstuff offer," with habitat destruction, "but you are cutting of the following era," explained Chekouras.
That's why Chekouras and other Ecology Heart landscapers developed up the milkweed populace at the park – to build habitat and foodstuff supply. She reported it's now a licensed "monarch way station."
Apart from, she suggests, milkweed is a beautiful plant. "I get so several feedback about the butterfly and bee yard and all I'm performing is developing habitats," Chekouras stated.
Lindh frames it as the want for a "paradigm shift" to get people to target on landscaping with indigenous vegetation.
"Everything will work ideal when you leave nature on your own," Lindh mentioned.
In the meantime, she hopes Sonoma inhabitants participate in this week's Monarch Blitz and, preferably, report some favourable results to the Monarch and Milkweed Mapper. After all, she describes the monarch as an "indicator species," in that the overall health of the species signifies the total overall health of the atmosphere.
"Biodiversity, which is crucial to what we're hoping to achieve," Lindh reported. "There's these an interdependence of lifestyle."
Or, to quote one of her most loved observations from renowned naturalist John Muir: "When we consider to pick out anything at all by itself, we find it hitched to every thing else in the universe."
Email Jason at jason.walsh@sonomanews.com.